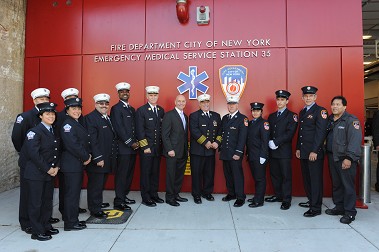 Brooklyn - Members of the FDNY opened a new, state-of-the-art facility on Sept. 30, the new EMS Station 35 in Greenpoint, Brooklyn.


"This is your new home," Fire Commissioner Salvatore Cassano said. "But the most vital part of it is you, the members. I'm proud of the work you've done, the work you do and the work you will do in the future."
Sixty-five paramedics and EMTs work at the station, which was previously located at Woodhull Hospital. The two-story 12,400-square-foot facility includes an apparatus floor for four ambulances and a command vehicle. Seven ambulances will operate from the station, equaling 17 tours per day.


During construction, Iron Worker John Stalzer suffered a serious heart attack at the location. But thanks to quick thinking bystanders and knowledgeable first responders, he survived. Days later, on Dec. 30, 2011, he met the FDNY EMS members and firefighters who saved his life.
Mr. Stalzer and his family attended the Station's dedication ceremony.


"We've been looking forward to working here," Capt. Edward Bobb said. "But this comes second to our primary mandate to help serve this community with the best level of care available."


The station was designed by Michielli & Wyetzner Architects and built by the Department of Design and Construction (DDC), who employed construction management firm TDX and Volmar Construction.


"This is an iconic building that conveys the message of readiness to serve and connectedness to the community," DDC Deputy Commissioner David Resnick. "It's a symbol of what EMS represents to the community."
{NewYorkBuffMedia Newsroom - Source: BrooklynNewsCorp}